Ohhh mee ohh mi me did finks Santy paws dids come to visit again yesterday. Can yoo believes da posty person did come on a Sunday. Dere wee was all curled ups on da couch wivs Da Momster watchin our cheesy cowboy movie wen da door knocker wents.
A parcel fur mee & Richie BoyOboyOboy was wee excitamagated !! Wee did dance round da room yellin at da tops ovs our voices 'Open it, Open it Moms hurry up yoo slow poke yoo '
Not da bestest ovs fings to be yellin at Moms really, she mades us wait till wee dids calm down …. what a poopy head her can be sometimes.. .. .. .. bol.
So dis be what da posty did bring
It was from Sallie n Alien now wee gots even more excitamagated, well who wouldn't gets uber happi-ness wen furiends send parcels how Da Momster expeks mee to be calm is beyond mee.
Anyways it was taped up REALLY well n it took Moms 87 hours to gets all da sticky stuffs off by which times wee ( well mee really ) hads calmed down n was behavin.
So wee got s to see inside da box
Ohhhhh goodies fur us , Jubilashuns n Joys aboundin looks at all ovs it !
Da Momster helped us gets all da goodies out n yoo will neva guess whats wee gots .. .. .. .. .. .. .. dont even try cos yoo will neva eva guess.
Wee got gots our very own raindeer looks.. .. .. .. .. .. .. .. .. .. ..
Wee has named him ALF ( likes da alien life form from da old telly box show ) in honor ovs Alien. Him has a squeeker n evryfing, wee gonna takes good care ovs him Sallie n Alien.
Wee also gots some very, very uber nommy treats mades wiv peanutty butter
n a hide candy cane wee is savin da cane cos Da Momster has sayd wee can havs a tree ovs our very own next Crimbo so wee going to put it on dat. Da treats are very good n wee lovs em but Da evil poopy headed Momster is rationin dem BOOOOOOO !
Butt wait dere was even more first dere was dis tag
it was our words from our story and behinds da tag was anuvver well wrapped package which mee did undo and yoo will neva eva in 87 gazillion years guess what was hidin in dere fur me
A real Santy Paws snow globes jus fur me, now mee really does havs my own snow dat will neva go away. Mee has da biggest happi dat mee has eva had in mi hole life
Mee just had to dance wivs da joy mee felt
Butt dere was anuvver label in da package
wivs more words from our story n hiding in dis package was .. .. .. ..
A glass snow bear Crimbo ornament wivs snowflakes on him and snow insides ovs him ( yoo cant see it too well cos of Da Momsters pants photy takin ) butts him is most beeyootifool. Richie was losted fur words ( which is reel unusual ) hims is goin to takes da bestest care ovs Petey da snow bear cos him going to havs place ovs honor on our own tree next Crimbo. Richie dids do da snoopy dance wen him had recovered from bein wordless.
Wee neva expected such wonderous gifts to arrives just fur writin our story and our hearts is burstin wivs gladness, gratitude, nd love fer Sallie n Alien n dere folks fur such kindness.
We Fanks Yoo so very, very, very, very much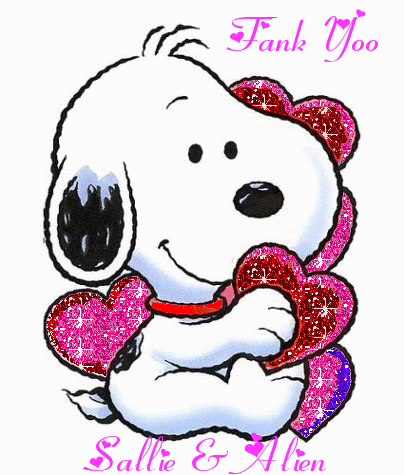 Wivs Lovs n Uber Happis
Ronnii & Richie